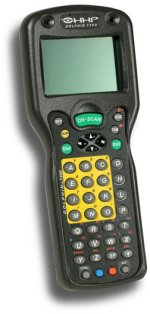 El Dolphin® 7300 es una terminal portátil compacta que brinda el mejor desempeño y poder para los más demandantes ambientes de trabajo hoy en día.
El Dolphin 7300 cuenta con Sistema Operativo Windows® CE, lo que la provee de versatilidad y expandibilidad. Este sistema operativo permite al usuario usar arquitectura abierta, permitiendo desarrollar aplicaciones usando Microsoft® eMbedded™Visual Tools. Este ambiente permite el realizar aplicaciones ràpidamente e implementarlas haciendo valer la inversión.
El poderoso procesador Intel® StrongARM® permite gran potencia y desempeño con un bajo consumo de energía. Lo que permite a los usuarios móviles utilizar aplicaciones altamente demandantes, haciendo al Dolphin 7300 una herramienta ideal para la empresa.
Características:
- La tecnología IQ Imaging incrementa la productividad al leer códigos de barras lineales, lineales apilados (stacked linear PDF417), matriciales, texto OCR y captura de imágenes.

- Al tener como sistema operativo Microsoft® Windows® CE permite ser flexiblemente programado en Mircosoft® eMbedded™ Visual Tools or Java™
- Diseño resistente especialmente para aplicaciones demandantes
Especificaciones Técnicas
System Architecture
Operating System
and Software: Microsoft® Windows® CE 3.0
Windows® architecture programmable with Microsoft® embedded™ Visual Tools (contains CE version of Visual C++® and Visual
Basic®)
CPU: Intel® StrongArm® RISC Processor, 206 MHz
Memory: 32 MB RAM, 32 non-volatile FLASH
Calendar/Clock: Crystal controlled
Data Inputs
Image Engine Ranges: LX: scans from 2.0 to 15.0 in. (5.1 – 38.1 cm)
LR: scans from 1.9 to 9.4 in. (4.8 – 23.9 cm)
HD: scans from 1.6 to 3.9 in. (4.1 – 9.9 cm)
Non-scan option also available
2D Symbologies Read: PDF417, MaxiCode, Data Matrix, RSS, EAN•UCC Composite Symbology, AZTEC
1D Symbologies Read: Code 3 of 9, Interleaved 2 of 5, EAN, Codabar, Code 128, Plessey, Code 11, Code 93, UPC, Code 39, UPC/EAN,
MSI
OCR Fonts: OCR-A, OCR-B
Keyboard: Three backlit keyboard options:
43-key alpha/numeric
35-key numeric/alpha
56-key full alpha/numeric keypad
Data Outputs
Display: 240 X 160 1/8 video graphics array (VGA) display screen
Electroluminescent backlight
Non-touch industrial protective lens or touch screen display options available
I/O Ports: RS-232, IrDA
Power: 2700 mAh NiMH Battery
Status Indicator Lights: Decode/good scan
Structural
Dimensions: 8.1'L'(20.5cm) x 3.45''W (8.76cm) x 1.9''D (4.86cm) at display, 2.7''W (6.85 cm) x 1.6D at grip (40.6 cm)
Weight: 20 oz. (567g)
Material: Magnesium alloy top housing / Polycarbonate ABS blend bottom housing
Environmental
Temperature
Operational: 14 to 122°F (-10 to 50°C)
Storage: -22 to 176°F (-30 to 80°C)
Humidity: 95% humidity non-condensing
Electrical Static Discharge: 15KV on all surfaces
Structural: Survives multiple 5 ft. (1.5m) drops to concrete; Designed to meet IP-64 standards for moisture & particle resistance.
Agency: FCC Class B, CE
HomeBase®: Provides charging power to terminal while operational. Data transfer via infrared COM port. Choose 120 V or 240 VAC power
adapters.
Mobile IntelliBase®: Provides charging power to terminal while operational. Data transfer via infrared COM port. Uses 12vDC - 48vDC power.


Manual de Usuario.pdf Folleto.pdf