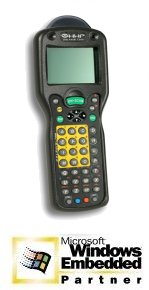 La terminal portátil Dolphin® 7300 de RF es la última adición a la familia de Dolphin HHP de computadoras móviles. Su diseño ergonomicamente amistoso, construcción robusta, e integrado a la tecnología y estándar 802.11b de comunicaciones inalámbricas la hacen inmejorablemente un excelente elemento para satisfacer las necesidades más exigentes en ambientes móviles.
Equipado con un área integrada imager, el Dolphin 7300 RF proporciona capacidades de toma de datos multifuncionales que superan por mucho a las terminales tradicionales basados en láser. Usando el Decodificado Avanzado Lineal (ALD), el Dolphin 7300 RF proporciona el funcionamiento de escaneo parecido a un láser sobre códigos de barras lineales y el mejor desempeño en lectura de códigos de barra PDF417. Además lee la mayoría de los códigos de barra 2D, realizar la captura de firmas, texto OCR, y toma fotos en blanco y negro.
Características:
- La tecnología IQ Imaging incrementa la productividad al leer códigos de barras lineales, lineales apilados (stacked linear PDF417), matriciales, texto OCR y captura de imágenes.

- Al tener como sistema operativo Microsoft® Windows® CE permite ser flexiblemente programado en Mircosoft® eMbedded™ Visual Tools or Java™
- Alta capacidad de su batería de 2700 mAh que asegura su funcionamiento por un largo período de tiempo.
- Tiene integrado el estándar de comunicaciones inalámbricas Intel® IEEE 802.11b WLAN. Provee acceso en tiempo real y acceso en línea a la información.
Especificaciones Técnicas
Operating System and Software:
Microsoft® Windows® CE 3.0
Windows® architecture programmable with Microsoft® embedded™ Visual Tools (contains CE version of Visual C++® and Visual
Basic®).
CPU: Intel® StrongArm® RISC Processor, 206 MHz
Memory: 32 MB RAM, 32 non-volatile FLASH
Calendar/Clock: Crystal controlled
Wireless Local Area Network: 2.4GHz IEEE 802.11b industry standard
Data Inputs
Image Engine Options: LX: red or green aimer option scans from 2.0 to 15.0 in. (5.1 to 38.1 cm)
LR: red or green aimer option scans from 1.9 to 9.4 in (4.8 to 23.9 cm)
HD: red or green aimer scans from 1.6 to 3.9 in (4.1 to 9.9 cm)
Non-scan option also available
1D Symbologies Read: Code 3 of 9, Interleaved 2 or 5, EAN, Codabar, Code 128, Plessey, Code 11, Code 93, UPC, RSS
2D Symbologies Read: PDF417, MaxiCode, Data Matrix, QR, RSS Composite, EAN.UCC, Aztec, OCR
OCR Fonts: OCR-A, OCR-B
Keyboard: Three backlit keyboard options:
43-key alpha/numeric
35-key numeric/alpha
56-key full alpha/numeric keypad
Data Outputs
Display: 240 X 160 1/8 video graphics array (VGA) display screen
Electroluminescent backlight
Non-touch industrial protective lens or touch screen display options available
I/O Ports: RS-232, IrDA
Power: 2700 mAh NiMH Battery
Status Indicator Lights: Decode/good scan
Structural
Dimensions: 8.1'L' (20.5cm) x 3.45''W (8.76cm) x 1.9''D (4.86cm) at display, 2.7''W (6.85 cm) x 1.6D at grip (40.6 cm)
Weight: 20 oz. (567g)
Material: Magnesium alloy top housing / Polycarbonate ABS blend bottom housing
Environmental
Temperature
Operational: 14 to 122°F (-10 to 50°C)
Storage: -22 to 176°F (-30 to 80°C)
Humidity: 95% humidity non-condensing
Electrical Static Discharge: 15KV on all surfaces
Structural: Survives multiple 5 ft. (1.5m) drops to concrete; Designed to meet IP-64 standards for moisture & particle resistance.
Agency: FCC Class B, CE
Peripherals and Accessories
IntelliBase™ Cradle: Provides charging power to terminal while operational. Data transfer via infrared. Choose 120 V or 240 V AC power.
Mobile IntelliBase™ Cradle: Provides charging power to terminal while operational. Data transfer via infrared com port. Uses 12 vDC or 48 vDC power
QuadCharger™ Simultaneously conditions and charges 1-4 batteries
Communication and
Charging Cables: Serial/charge cable; printer cables
Functional Case: Slip-on style cover with belt clip
Holster: Drop-in terminal holster, can be worn by user
Dolphin, HomeBase, Mobile IntelliBase, and QuadCharger are trademarks of HHP.
Visual Basic, Windows, eMbedded Visual Tools and Microsoft are registered trademarks of Microsoft Corporation.
Intel is a registered trademark of Intel Corporation.
StrongARM is a registered trademark of ARM, Ltd.